YOUNG LEADERS PROGRAM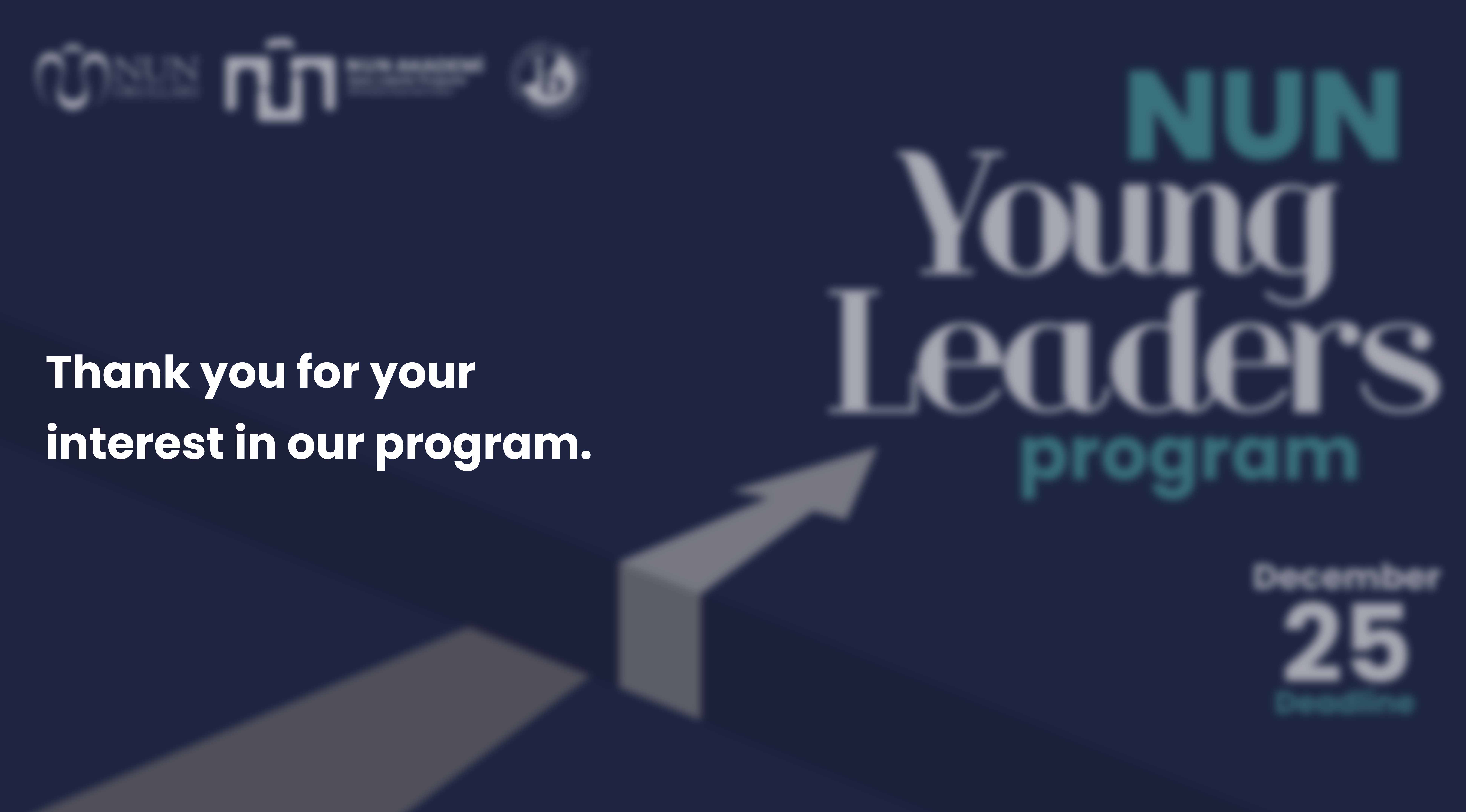 NUN Schools works to raise moral and conscious youth with a sense of responsibility, intellectual and aesthetic perspective, who will contribute to the future of our country and the world, with its primary, middle and high school institutions.
NUN Schools, an IB Continuum School, focuses on the basic principles of leadership with the Young Leaders Program and aims to provide the participants with managerial competencies.
NUN Schools, which strives to raise responsible global citizens and works for its students to be good people, intends to ensure that not only the generations they raise but also every individual under the roof of NUN have this vision and mission with the Young Leaders Program.
Candidates who will participate in the Young Leaders Program and successfully pass all the evaluation stages will gain various leadership competencies as well as adding value to their personal and professional business lives after an interactive five-day training. Selected candidates will be able to take on leadership positions under the roof of NUN Schools after the comprehensive training they will receive.
As NUN Schools, we are excited to meet young leader candidates who aim to contribute to the construction of a better future and who want to develop their personal potential.
Program Calendar:
28.11.2022 – 25.12.2022 Collecting Applications
28.12.2022 –03.01.2022 I. Evaluation Stage (Candidate Recognition Tests)
09.01.2023 – 13.01.2023 II. Evaluation Stage II (HR Interview)
23.01.2023 – 25.01.2023 III. Announcement of Training Program Participants
30.01.2023 – 03.02.2023 Training Program
February – March Conclusion Stage (Contract and Job Offer Stage)

Who Are We Looking For?

Being a Turkish citizen,
Having 5 years experience in teaching,
Born in 1982 and later,
Having a team spirit,
Giving importance to human relations,
Having analytical and strategic thinking skills and strong concentration,
Having decision-making and problem-solving skills,
Ability to establish strong relationships with all generations,
Ability to follow-up, control and improve,
Having developed communication skills and imagination,
Having knowledge of current developments in the field,
Open to learning and development and visionary,
Having a sense of responsibility and decisive,
Confident in planning and organizational skills,
Having a high English competency.

*In line with international child protection standards, NUN Schools place great emphasis on the protection of children. A careful consideration of a child protection element and detailed background research are involved in the selection process of the people to be assigned at the school. '

* We embrace everyone regardless of race, color, nationality, religion, gender, disability, citizenship or marital status by providing equal opportunity at work with zero-discrimination.'